We only pick products we trust, based on independent research by our editors. If you buy something through our links, we may receive a commission to create new content for you.
​It's a relief when you finally settle on which crib you want for your baby. You've completed a key shopping task for your newborn. You've probably reviewed functionality, budget and, of course, a cute design. At this point, you also know that another crucial decision is the crib mattress. It is the most important factor for your baby's sleep safety, and thus for your own peaceful sleep.
​The problem with choosing a mattress after finding your favorite crib is that not all mattresses measure the same. There are standards in the USA, given by the CPSC, but they indicate a range of measurements and non-identical sizes. And then there are producers, like Ikea, who apply standards from other countries. The result: a lot of crib mattresses of varying sizes.
If you don't do your research, you may end up with a nice crib but a mattress that doesn't fit snugly. Maybe it's too big, in which case it's useless. But the worst-case scenario is that the mattress is too small. This is worse because it can become a risk to the safety of your little one.
Why is it unsafe if the mattress is too small for the crib?
​Have you heard other parents talk about the "two-finger rule"? It's a simple way to remember the main safety rule when choosing a crib mattress: The mattress should not leave more than 2 fingers of space at the edges of the crib. A gap larger than this can become a trap for the baby and increases the risk of suffocation, or SIDS. (I suggest you read our comprehensive article on safe sleep for details).
So, for the safety of your newborn the mattress must fit perfectly in the crib, and since mattresses come in different sizes, and cribs too, then you have the "crib mattress size" puzzle to solve. Don't worry, because here we'll give you the solution to the "crib mattress size" puzzle.
If the heart of your nursery is an Ikea crib, you can jump right to the specific article we wrote about the best mattresses for Ikea cribs.
Buy a mattress of the same brand as the crib: Is this easy solution the best one?
Is your baby's crib a Pottery Barn Kids, Ikea, Babyletto or Davinci? All these favorite brands offer you their mattresses. But this is not the only option you have, and it is often not the very best. Below are five reasons why many parents have purchased other brand mattresses to improve their children's beds:
​1. Variety: All these brands of cribs offer you only two or three mattresses of their own. On the other hand, in the mattress market, you will find a huge variety. You can find mattresses for all tastes and budgets. Breathable mattresses, organic or eco-friendly, with technology to increase freshness, waterproof, double-sided for newborns and for toddlers, in short, all the qualities we might look for in a premium mattress.
​2. Expert brands: the crib you chose is made by furniture experts. But these companies are not experts in mattresses, let alone crib mattresses. Mattress experts meet standards, invest in research and development, and compete with each other to help your baby sleep better on their mattresses. The quality of mattresses you find in the top brands in this field is greater than the quality offered by furniture manufacturers.
​3. Quality/price ratio: Buying a mattress other than the crib's brand saves parents money by avoiding upselling. The crib stores sell you a mattress that can be found cheaper or of better quality if you look in the wide market offer. We have proved this in the research we did for this article.
​4. Safety Risks: Some brands of affordable cribs offer cheap mattresses, $50 or less, that are of poor quality, often sag, release toxic vapors or simply quickly become useless.
​5. The Easy Way … is not always the best, and this is even more valid when the well-being of your baby is at stake. The convenience of purchasing in a single store should not be the primary criterion in this case. With this article, we aim to help you save time on research and come to a wise decision on the best mattress for your crib, whether it be Pottery Barn, Ikea, Babyletto or Davinci.
How to be Sure Which Mattress Will Fit Snugly in Your Baby's Crib
​For all these reasons we embarked on the task of reviewing dozens of crib mattresses available on Amazon. We read hundreds of reviews from parents and buyers and selected only those mattresses with more than ​200 5-star ratings. But most importantly, all the crib mattresses we chose have been purchased by real parents who have Babyletto, Pottery Barn and Davinci cribs (we are adding other brands, please write your request in the comments). So you have real proof that they will fit perfectly in your crib, and you will get the full bundle for your baby.
Below you will find our selection of the best mattresses that fit nicely into your favorite bed. For each mattress, we tell you which brands are fully compatible.
Quick Snapshot of the Best Mattress for Babyletto, Pottery Barn Kids and Davinci Cribs
The Best Sleep System
Moonlight Slumber Little Dreamer Dual Sleep Surface
One of the most loved mattresses by parents. All the features of a high-end mattress, 2 stages at a reasonable price.
Parent-tested for:
Babyletto, DaVinci and Fisher Price cribs
Most Affordable and Dual Sided
​Serta Perfect Start Crib and Toddler Mattress
Budget-friendly, waterproof, fiber core and double-sided.
​Tested by buyers for:
​Davinci cribs
The Best Premium Mattress
​Newton Baby Crib Mattress and Toddler Bed
​The most innovative mattress on our list. Fully breathable and the perfect addition to a premium crib.
​Parent-tested for:
Pottery Barn, Babyletto and Davinci cribs
Best Organic Bundle
Colgate Eco Classica III Dual Firmness Orthopedic Style
​A great mattress for toddlers and babies, with a super soft waterproof cover, dual firmness, lightweight and green certifications.
Tested by buyers for:
Davinci, Pottery barn and Babyletto cribs
​You can read below our notes for each of these ​snug fit mattresses.
Review of The Right Mattress for Babyletto, Pottery Barn or Davinci beds
​The Best Sleep System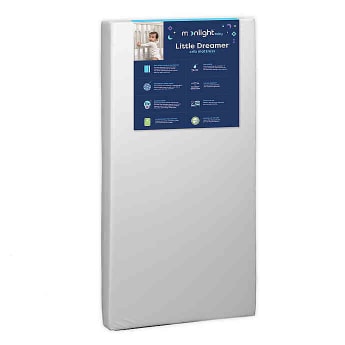 ​Moonlight Slumber Little Dreamer Dual Sleep Surface Crib Mattress
​Snug fit according to parents: Babyletto, Davinci or Fisher-Price Cribs
​Crib Mattress Size: 52 L x 27.5 W x 5 T Inch
​This is one of the mattresses rated top on Amazon. Parents who bought it love it.This 2-stage mattress is extra firm on one side and soft on the other. It has been third party tested and includes a waterproof cover that can be easily washed with a sponge. It was made in the USA and has no fire-resistant chemicals inside. One mother bought it for her three Month-old, but gave it first to her 20 Month-old and then bought another for her infant. The baby went from never sleeping on his back to sleep 6 to 8 hours in a row on this bed. One mom commented: for everyone looking, we're using the Moonlight Slumber mattress in the Babyletto Hudson crib, and it's a perfect fit.
​Best Dual Sided and Budget-friendly Mattress
​Serta Perfect Start Crib and Toddler Mattress​
Snug fit according to parents: ​​only Davinci
Check Price on Amazon
The Serta Perfect Start also offers a double-sided mattress to accommodate the firmness needs of a young infant while also offering a more comfortable and softer option for a toddler or older child. However, the Serta Perfect Start has a slightly firmer core with a firm fiber core to maintain the mattress's firmness.
The Serta Perfect Start also has a waterproof mattress liner included, so it has you protected from baby messes and toddler spills! This one is not removable, however, so the lining will not be washable and instead would require being wiped down with a cloth.
The Serta Perfect Start is a great fit for families who want their mattress to grow with their baby, but prefer a bit more added structure.
​The Best Premium Mattress
​Newton Baby Crib Mattress and Toddler Bed​
Snug fit according to parents: ​Pottery Barn, Babyletto, Davinci
​​Crib Mattress Size: 52 L x 28 W x 5.5 T Inch
​This is the most expensive crib mattress of our selection, but it is also the one that brings more peace of mind according to parents. Newton is a US manufacturer that revamped the market with its Breathe-Thru technology. Many parents have experimented with putting their face against the mattress and all conclude: It is completely breathable!Sometimes our little ones make bad decisions, such as being face sleepers. This mattress is made of an innovative, fully breathable material. Your baby will be able to sleep safely and everyone will sleep better.It is also Greenguard Gold certified. So if you're looking for a premium mattress for a premium bed, this is the perfect addition.
​Complete Your Organic Bundle
​Colgate Eco Classica III Dual Firmness Orthopedic Style Crib Mattress​
Snug fit according to parents: ​Davinci, Pottery barn, Babyletto
​Crib Mattress Size: 51.63 L x 27.25 W x 6 T Inch
Check Price on Amazon
​If you are after an eco-friendly mattress for toddlers and babies, this one is wonderful! It's CertiPUR-US & GREENGUARD GOLD CERTIFIED, making it an excellent choice for low toxic chemical content. The eco-friendly foam is made without flame retardants, formaldehyde or other harmful toxins. And mothers and babies love it. One mom was boasting that the first night her little one slept on this new mattress, she slept for 12 hours! Another mother said this double-sided mattress has supported her child's growth for the first year and shows no signs of wear and tear. Also, her 1-year-old sleeps for 15 hours every night.