We only pick products we trust, based on independent research by our editors. If you buy something through our links, we may receive a commission to create new content for you.
Putting together and decorating your baby's nursery is a wonderful way to prepare both physically and emotionally for the arrival of the littlest addition to your family. Nesting isn't just putting together furniture and designing a color scheme, it's also preparing your family psychologically for the dramatic changes that are approaching in your life.
Modern nursery trends call for an understated, desaturated look, as opposed to the dated and supersaturated colorful nurseries of a few decades ago. Parents want to create a simple, clean look that is soothing and understated. Having a nursery be gender-neutral is also quite popular, with more and more parents trying to avoid the traditional pinks and blues for something more broadly appealing. Unlike the classic nursery style of bright, wild primary colors, contemporary trends call for neutral colors like white and grey to soothe your baby to sleep, rather than stimulate and excite them.
Why choosing a white dresser for the baby's room?
Dressers are an important staple of nurseries. Nothing is more important to new parents than simple, accessible storage. Dressers are especially helpful because the sturdy surface can double as a changing table with the simple addition of a changing pad, and unlike typical changing tables, the dresser will retain its function after your little one has grown out of diapering.
When choosing a dresser, white is quite a popular choice. In addition to being on-theme for the current minimalistic nursery trend, one reason for this is because, for parents who love the look of decals and stickers, a white dresser creates a beautiful canvas upon which you can apply designs. White dressers also have the additional benefit of remaining appropriate for children as they grow older, rather than seeming childish and silly as they grow into adolescence.
We handpicked the 5 best white dressers available. We selected the ones with the best value for money, with rave reviews from buyers and not forgetting the trends in nursery interior design.
Quick Snapshot: The 5 Best White Dressers for Kids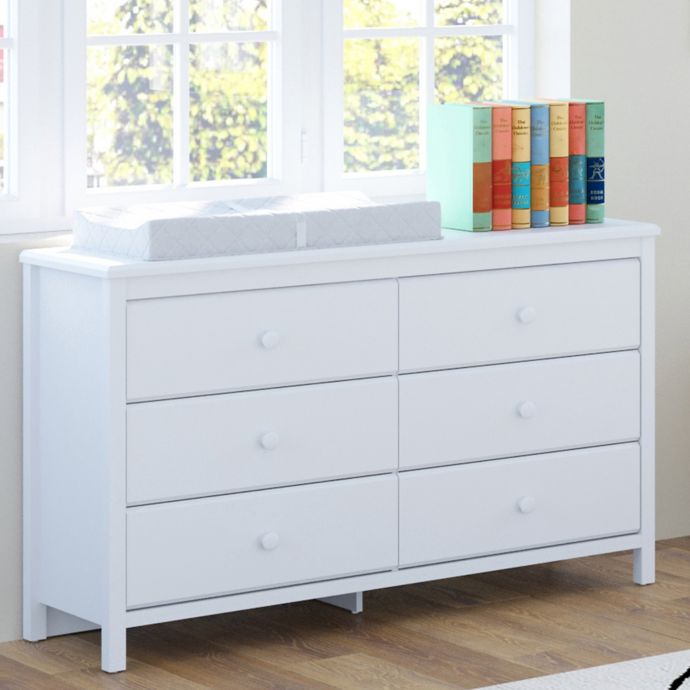 Top Pick
Storkcaft Alpine 6 Drawer Dresser
The full package if you are looking for minimalist style and convenience
Most Popular
Storkcraft Avalon 6 Drawer
Elegant, sturdy and many parents love it
Most Affordable
Delta Children 3 Drawer Dresser​
Excellent value for money and roomy drawers
White&Gray
Carter's by Davinci Colby 6-Drawer
Minimalist with an eye-catching twist
Petite & Cute
Babyletto Scoot 3-Drawer White Changer Dresser
A Scandinavian look with compact size
Best White Dressers for Nursery – Full reviews
Lullabybot's Top Pick: Storkcaft Alpine 6 Drawer Dresser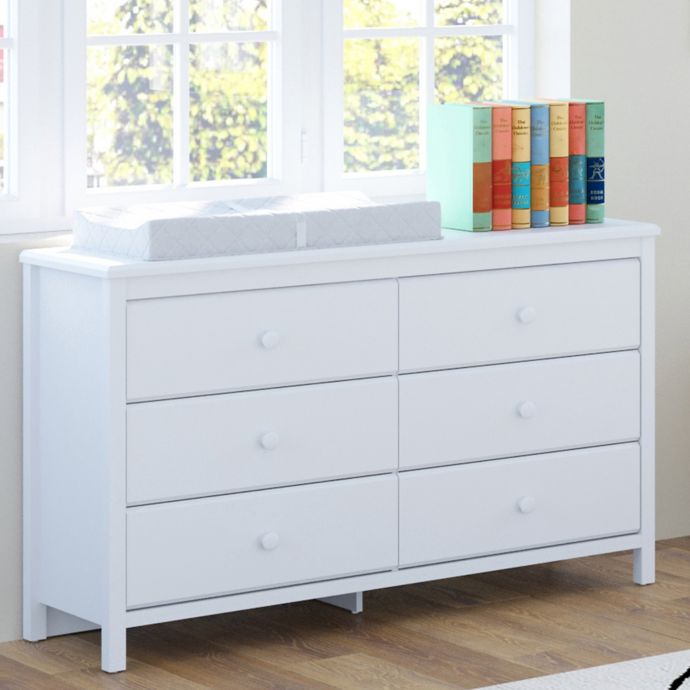 Check Price on Amazon
The epitome of simple, clean, and modern, the Storkcraft Alpine 6 Drawer Double Dresser is both minimalist and trendy. The Alpine 6 Drawer has dimensions more than adequate for placing a changing table on top, with surface area left over for tabletop storage of diapers and wipes. There's also plenty of storage space, with six full drawers more than a foot deep at 22 inches wide. Best of all, this beautiful white dresser is stain-resistant and easy to clean, so you don't have to worry about diaper messes or toddler finger painting ruining your beautiful dresser. Any spills or stains will wipe up easily!
However, parents should be aware that if you're interested in using this dresser as a changing table, the height may be on the short side for parents on the taller side, as this dresser stands at just 33 inches tall.
Most Popular: Storkcraft Avalon 6 Drawer
Check Price on Amazon
For those who are a fan of the general size and shape of the Alpine 6 Drawer but want something a bit more classic and elegant, the Avalon 6 Drawer Dresser is the perfect dresser for you. The Avalon is similar in style and construction to the Alpine but is in a traditional sleigh-style pattern with beautiful finishes along the top and sides of the dresser.
Similarly, this dresser can also accommodate a changing pad with room for tabletop diaper storage, and at 40 inches tall is an easy height for parents to change their baby at.
Most Affordable: Delta Children 3 Drawer White Dresser
Check Price on Amazon
The Delta Children 3 Drawer Dresser is a more compact storage option for parents who would like a dresser that takes up less floor space, at only 37 inches long. With only three drawers, the drawers are far more spacious and can hold more items per drawer, making access simpler for parents rushing through finding their kids' outfit. While smaller in size, the dresser top does still allow adequate room to fit a changing pad to turn your baby's dresser into an easy changing table.
This dresser is also on the smaller side, although shorter parents may not find any problems with it. The smaller size does also mean that for parents using the surface as a changing station, they may not have room to also store diapers and wipes on the dresser top.
The Best in White and Beyond: Carter's by Davinci Colby 6-Drawer Dresser in Grey and White
View on Bed, Bath & Beyond
For parents who love the look of a white dresser but want something that makes more of a statement, the grey and white Colby 6-Drawer dresser could be just the thing. With a soft grey exterior and white drawer fronts, this dresser maintains the understated minimalist aesthetic while still offering more to draw the eye. The extra height under the dresser offers an opportunity for further storage with added containers. Not only does the surface offer enough space for a changing pad, but can be ordered with a removable changing top that has built-in storage for diapers and wipes at the ready.
The Best Petite and Cute Choice: Babyletto Scoot 3-Drawer White Changer Dresser
Check Price on Amazon
This dresser offers a very different aesthetic mood than many other dressers, with a mid-century modern shape and natural wood hardware providing a softer finish. The tapered legs offer a unique sense of shape and style. Both beautiful and petite, this dresser is only 38 inches long. While the Babyletto Scoot would fit perfectly in any modern trendy nursery, the style offers more diversity and draws attention, unlike many understated minimalist pieces. This piece does offer some opportunity for some storage underneath the dresser, with several inches between the bottom drawer and the ground.
The surface is large enough to accommodate diaper changes and, in fact, comes with a removable changing tray. Due to the Babyletto Scoot's petite size, however, parents will have to find storage for diapers and wipes elsewhere than the top of the dresser.
Kelly is a mom of 3 and has a degree in Psychology. She has been a parenting content writer for years. When she's not managing projects at Lullabybot, she loves to get outdoors with her kids and her dog Bandit, and baking desserts on weekends.